Fenoxidol
Natural anti-inflammatory with analgesic activity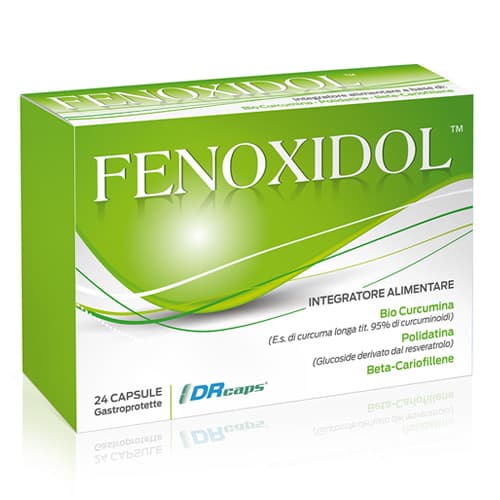 Content 24 capsule gastroprotette

Nuovamente disponibile da settembre 2022
Price
€25,00
VAT included
Shipping costs € 6,50*
Free shipping for amounts of 38€ or more
Out of stock
Payment systems
Paypal
  Credit
Cards Bank
Transfert
Fenoxidol™ is an innovative natural formulation with analgesic and anti-inflammatory action, useful in contrasting acute and chronic pathological conditions characterized by inflammation and pain.
The mix of turmeric, polydatin and Beta-caryophyllene has been studied to act on different molecular targets, exerting a modulating and contrasting action against the factors (oxidative stress, inflammatory cytokines) that determine the perpetuation of personal illness.
The use of a high bioavailable turmeric formulation allows a better absorption of curcuminoids, with many known pharmacological properties. Their action is enhanced by the combination with polydatin, a derivative of resveratrol, with a high antioxidant power. The addition of beta-caryophyllene, a cannabinoid receptor agonist (CB2) extracted from black pepper, adds to this formulation an effective analgesic action.
Product quality belongs not only to the synergistic combination of the active ingredients, but also to the high titration in the selected natural extracts and to the attention to their bioavailability.
WHEN AND HOW TO TAKE FENOXIDOL
Take 1 or 2 capsule per day, 10 minutes before meals.
NOTES
The actives and the micronutrients present in this innovative formulation are characterized by a high bioavailability, an aspect linked to a greater systemic absorption and efficacy.
In this regard we underline that trans-polydatin, a natural and glycosylated precursor of the trans-resveratrol, presents a better cellular and systemic bioavailability, thanks to active diffusion through glucose transporters.
Beta-caryophyllene is a molecule highly lipophilic and instable in biological fluids. To allow its efficacy, a latest-generation powder form liposomal formulation has been used which uses naturally derived carriers to create a phospholipid encapsulation. Moreover, gastroresistant capsules (DRcaps) are used to help protect the active ingredients from gastric juices and to reduce the aftertaste that can occur with some natural molecules.
COMPOSIZIONE CAPSULA FENOXIDOL
| SOSTANZE ATTIVE | per 1 capsula | per 2 capsule |
| --- | --- | --- |
| Bio Curcumina | 200 mg | 400 mg |
| Polidatina | 50 mg | 100 mg |
*VNR: valore nutrizionale di riferimento giornalieri, reg. 1169/2011