DrenoVas
Nutritional supplement to support microcirculation functionality.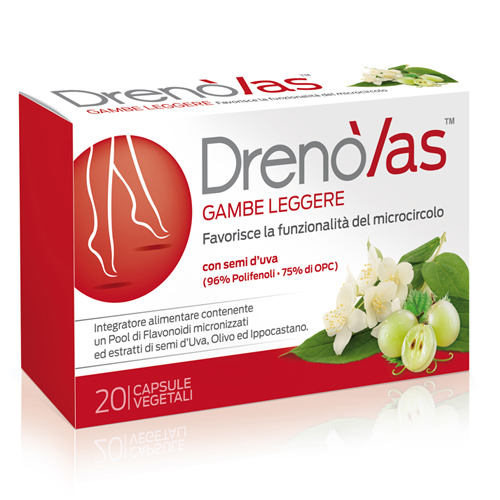 Content 20 capsule vegetali
Price
€19,50
VAT included
Shipping costs € 6,50*
Free shipping for amounts of 38€ or more
Out of stock
Payment systems
Paypal
  Credit
Cards Bank
Transfert
DrenoVas is a natural solution to contrast the different symptoms of chronic venous disease as heavy legs, swelling, varicose veins, edemas and ulcerations.
Active compounds, of natural origin, present in this formulation are able to act against venous chronic insufficiency at different levels.
Micronized diosmin extract from citrus, in association with an optimized pool of flavonoids and technological adjuvants that ensure highly bioavailability (four times versus classic micronized diosmin) and efficacy in stimulating venous return and lymphatic drainage.
Escin, from horse chestnut, strengthens capillary wall, reducing vascular permeability and so edema formation.
The remarkable anti-inflammatory and antioxidant properties of Oligomeric Procynidins (OPC), plentiful in grape seeds, and of polyphenols from Olea Europea, promote capillary wellness reducing swelling and pain.
WHEN AND HOW TO TAKE DRENOVAS
Take 1-2 capsule per day away from meals.
NOTES
The Procyanidins present in the grape seed extract belong to the class of proanthocynidins but they are only little oligomers of catechin and epicatechin.
Pharmacokinetic studies highlighted that low molecular weight OPCs (monomers, dimers and trimers) are better absorb through intestinal barrier than polymeric forms, poorly absorb after oral administration.
Mivell attention on bioavailability, and so efficacy, led to search and choice an extract very rich in OPC (>75%) with a content in monomeric, dimeric and trimeric forms >55%.
COMPOSIZIONE CAPSULA DRENOVAS
| SOSTANZE ATTIVE | per 1 capsula | per 2 capsule |
| --- | --- | --- |
| Pool di flavonoidi micronizzati | 300 mg | 600 mg |
| 90% Flavonoidi | 270 mg | 540 mg |
| di cui Diosmina | 216 mg | 432 mg |
| Semi di vite | 150 mg | 300 mg |
| 75% OPC | 112,5 mg | 225 mg |
| Ippocastano | 150 mg | 300 mg |
| di cui Escina | 30 mg | 60 mg |
| Olivo e.s. frutto | 30 mg | 60 mg |
| Polifenoli totali | 29,4 mg | 58,8 mg |
| di cui idrossitirosolo e derivati | 18 mg | 36 mg |
*VNR: valore nutrizionale di riferimento giornalieri, reg. 1169/2011