CondroFen
An anti-inflammatory nutritional supplement from nature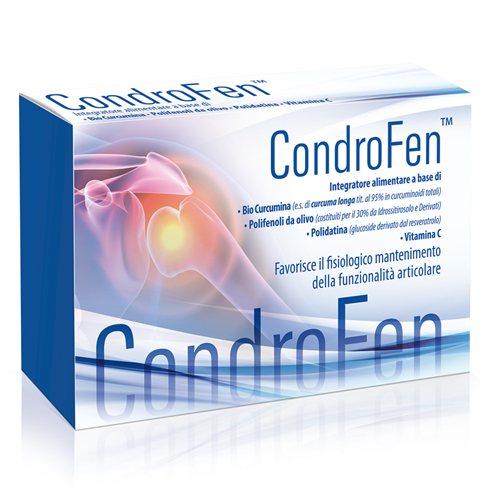 Price
€26,00
VAT included
Shipping costs € 6,50*
Free shipping for amounts of 38€ or more
In stock (can be backordered)
Payment systems
Paypal
  Credit
Cards Bank
Transfert
CondroFen™ is a natural anti-inflammatory product composed by highly bioavailable curcuminoids, polyphenols from Olea Europea, polydatin and vitamin C.
CondroFen™ is a natural solution to effectively counteract acute and chronic inflammation associated with skeletal and muscle system (like myalgias, arthritis, arthrosis) without side effects.
Active molecules present in this formulation have a synergistic and multitarget activity against the main pathological features, reducing swelling and pain.
Curcumin, in a highly bioavailable form, associated with polydatin and polyphenols from Olea Europea, ensures a potent anti-inflammatory and antioxidant activity, mediated by the modulation of different molecular pathways (cytokines, chemokines, enzymes like COX2, LPO, NOS).
This product contributes to the wellness of muscles, ligaments, cartilages and bones.
WHEN AND HOW TO TAKE CONDROFEN
Take 2 or 3 capsule per day, during the meals.
NOTES
Active compounds and micronutrients included in this innovative formulation are characterized by a highly bioavailability, aspect closely link with systemic absorption, target tissues achievement and so therapeutic efficacy.
In this regard it must be specified that polyphenols from Olea and polydatin in the product are present as glycosylated molecules, in their most natural shape. It's known that the link with the sugar improves significantly systemic bioavailability of this compounds thanks to the possibility to use glucose transporters as active way to cross intestinal barrier.
COMPOSIZIONE CAPSULA CONDROFEN
| SOSTANZE ATTIVE | per 1 capsula | per 2 capsule |
| --- | --- | --- |
| Bio Curcumina | 300 mg | 600 mg |
| Polidatina | 50 mg | 100 mg |
| Olivo e.s. frutto | 30 mg | 60 mg |
| Polifenoli Totali | 29.4 mg | 58.8 mg |
| di cui Idrossitirosolo e suoi Derivati | 18 mg | 36 mg |
| Vitamina C | 40 mg 50% VNR* | 80 mg 100% VNR* |
*VNR: valore nutrizionale di riferimento giornalieri, reg. 1169/2011
Prodotto incluso nel Registro degli integratori del Ministero della Salute con codice 87898.