CistiPAC-A
Nutritional supplement to support urinary tract wellness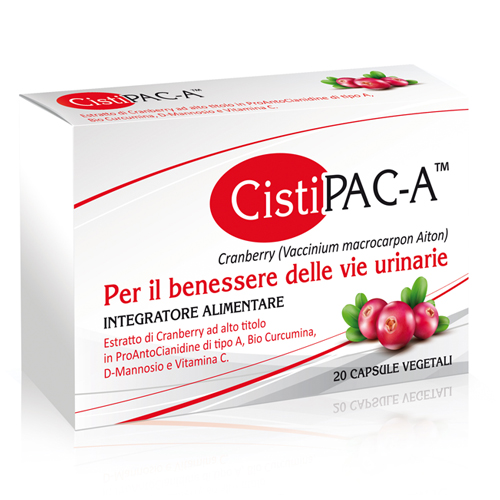 Content 20 capsule vegetali
Price
€21,00
VAT included
Shipping costs € 6,50*
Free shipping for amounts of 38€ or more
Out of stock
Payment systems
Paypal
  Credit
Cards Bank
Transfert
CistiPAC-A is a nutritional supplement formulated with natural extracts effective in preventing and treating urinary tract infections (UTI)
Cystitis is usually a recurrent and chronic disease cause by the bacterial colonization of bladder. Common symptoms are:
Pain and burning in urination
Pain in the lower part of abdomen
Turbid urine
Feeling of heavy bladder
Urinary urgency
Natural active compounds in CistiPAC-A have a multitarget activity against the main UTI characteristics: infection, inflammation and pain.
The standardized Cranberry extract (Vaccinum Macrocarpon), Oximacro, ensure an elevated concentration of Type A Proanthocyanidins, really active against bacterial pathogenicity.
The D-mannose, a sugar extracted from birch wood, promotes bacterial elimination with urine synergizing with Cranberry activity.
Curcumin, in a highly bioavailable formulation, relieves pathological symptoms through its anti-inflammatory and antioxidant properties.
WHEN AND HOW TO TAKE CISTIPAC-A
Take two capsules per day, away from meals, during the acute phase of the infection.
To avoid recurrence and to ensure urinary tract wellness continues with one capsule per day, before bed.
NOTES
Many clinical trials pointed out that the beneficial effects of Cramberry are mediated by type A Proanthocynidins and they suggest 60 mg per day in the treatment of lower urinary tract infection. Efficcacy of Cramberry based products so is linked with the correct determination of PAC-A presence. Control the amount of PAC-A in your product!
Standard methods of analysis not determine correctly PAC-A and PAC-B fractions and usually overestimate the proanthocynidins content.
The Oximacro extract is analyzed with the new method, scientifically validated, BL-DMAC that is more accurate and is successfully used to quantify PACs from Cramberry.
This method is followed by HPLC-MS, the only way to correctly determine the PAC-A.
It is currently the method used in high quality food supplements
COMPOSIZIONE CAPSULA integratore cistite CISTIPAC-A
| SOSTANZE ATTIVE | per 1 capsula | per 2 capsule |
| --- | --- | --- |
| Bio Curcumina | 300 mg | 600 mg |
| D-Mannosio | 300 mg | 600 mg |
| Cranberry | 120 mg | 240 mg |
| PAC tot | 43,2 mg | 86,4 mg |
| di cui PAC-A | 36,7 mg | 73,4 mg |
| Vitamina C | 40 mg 50% VNR* | 80 mg 100% VNR* |
*VNR: valore nutrizionale di riferimento giornalieri, reg. 1169/2011